A Multidisciplinary Journal of the Interactions between People and Other Animals
Official Journal of the International Society for Anthrozoology (ISAZ)
© International Society for Anthrozoology (ISSN: 0892-7936; e-ISSN: 1753-0377)
Published by
Anthrozoös is a bi-monthly, peer-reviewed publication whose focus is to report the results of studies, from a wide array of disciplines, on the interactions between people and other animals. Academic disciplines represented include anthropology, archaeozoology, art and literature, education, ethology, history, human medicine, psychology, sociology and veterinary medicine.
Meet our Anthrozoös Editorial Team
---
The complete online back catalog of Anthrozoös is available to all ISAZ members when they log in to the member portal. For information on becoming a member of ISAZ, click here.
---
Congratulations to our Anthrozoös Most Popular Paper 2022 Award Winner!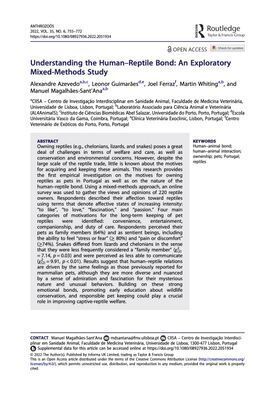 Understanding the Human–Reptile Bond: An Exploratory Mixed-Methods Study
Alexandre Azevedo, Leonor Guimarães, Joel Ferraz, Martin Whiting, and Manuel Magalhães-Sant'Ana
Published in 35(6) December, 2022
Previous Anthrozoös: Most Popular Award Winners
Homeless People and Their Dogs: Exploring the Nature and Impact of the Human–Companion Animal Bond
Louise Scanlon, Pru Hobson-West, Kate Cobb, Anne McBride, and Jenny Stavisky
Published in 34(1) February, 2021
The Pet-Effect in Daily Life: An Experience Sampling Study on Emotional Wellbeing in Pet Owners
Mayke Janssens, Jannes Eshuis, Sanne Peeters, Johan Lataster, Jennifer Reijnders, Marie-Jose Enders-Slegers, and Nele Jacobs
Published in 33(4) July, 2020
The State of Research on Human–Animal Relations: Implications for Human Health
Deborah L. Wells
Published in 32(2) April, 2019
An Examination of Adult Women's Sleep Quality and Sleep Routines in Relation to Pet Ownership and Bedsharing
Christy L. Hoffman, Kaylee Stutz, and Terrie Vasilopoulos
Published in 31(6) December, 2018
---
Interested in Submitting a Paper to Anthrozoös?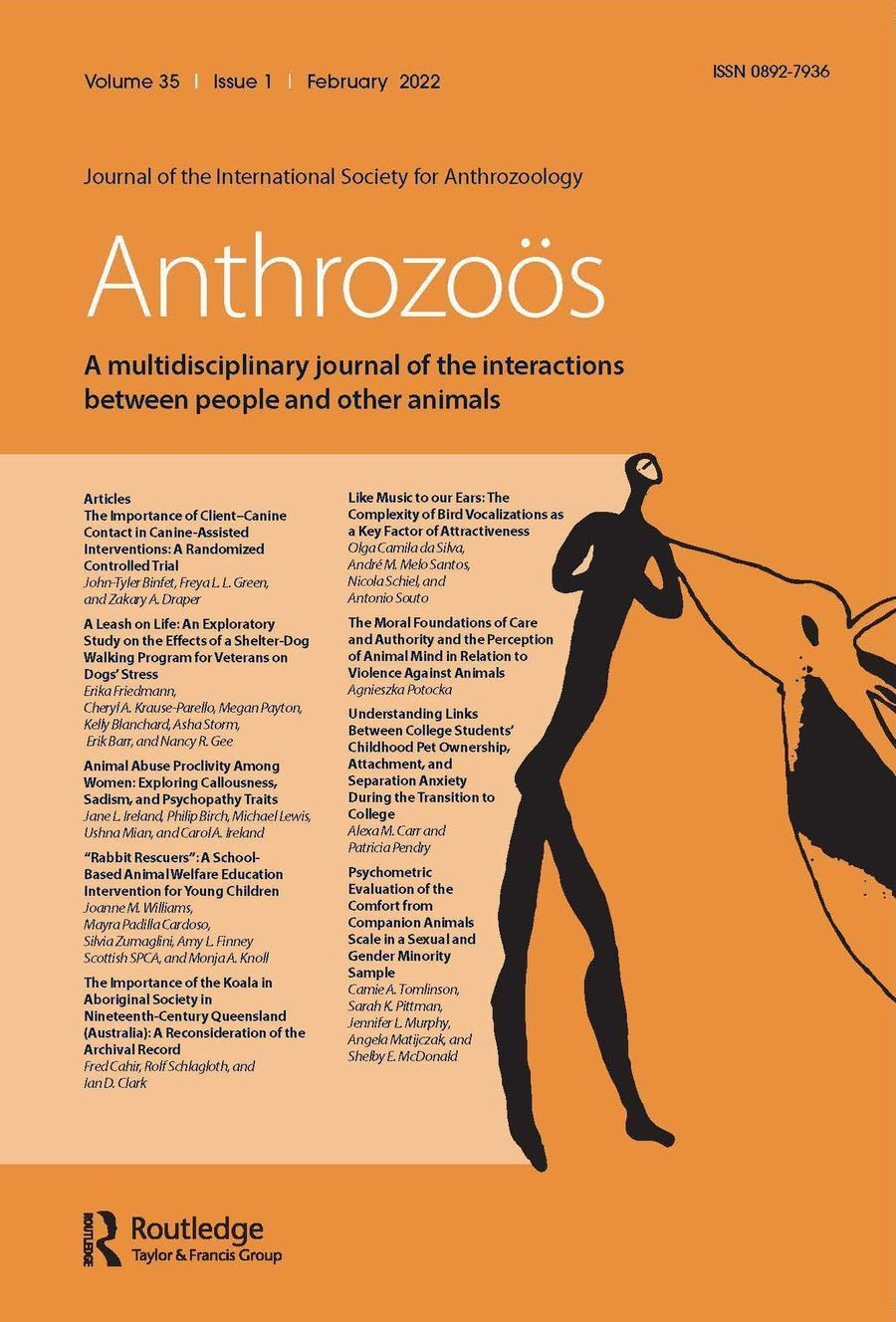 Follow Anthrozoös on twitter!
The back catalog of Anthrozoös was sponsored by: