Remembering Marty Bryant (1937-2016)
Martha Bryant, our beloved office manager and dear friend, passed away days before our yearly conference in Barcelona on July 4 after a severe stroke. Marty served as office manager for ISAZ for many years and was involved in most organizational processes.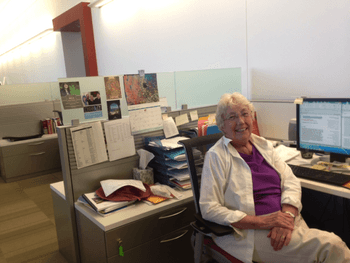 It is very difficult to accept that this kind person, who answered every single request with lots of patience and great understanding (for all people) is no longer in our lives.
Marty is terribly missed by all who knew her and especially by all students who she supported in every possible way. Students, the future of ISAZ, were most dear to her.
By Special to The Enterprise
From page A4 | July 24, 2016
Nov. 27, 1937 – July 4, 2016
Martha (Marty) Ellen Bryant of Davis died July 4, 2016, in Woodland of complications from a stroke. She was 78 years old. She was born Martha Ellen Eynon on Nov. 27, 1937, in San Diego to Thomas and Hazel Eynon.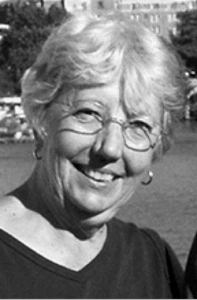 Marty is survived by her husband of 56 years, Bernard J. Bryant; daughter Kimberly Morach and husband Juerg; son Loren Bryant and wife Elise; grandchildren Alexander Morach and Annemarie Morach; sister Clara Patricia Dulmage; and nephews Charles W. Dulmage III and Thomas J. Dulmage. Marty was predeceased by her niece Patricia Dulmage.
After growing up in Sacramento, Marty attended UC Berkeley. She met Bernie the summer after graduation. They married and spent their first three years together in Sweden, where Bernie was doing medical research. Afterward, they spent two years in New York then lived in various locations in California before settling in Davis in 1969.
Marty was a Davis resident for 47 years. She began working at the UC Davis School of Veterinary Medicine in 1977, and although she officially retired in 2005, she continued to work part-time for UCD Veterinary Medicine for the rest of her life.
---
Remembering Bill Balaban (1927-2008)
From the time his beloved poodle, Tiger, died in the early 1980s, Bill Balaban lived his life as a passionate visionary for the human-animal bond. He loved his dogs and presented himself as a role model for others, an advocate for animals, and a philanthropist. Focusing his dynamic and creative mind to benefit animals, his ideas and goals for advancing the field of human-animal studies and practice were far in advance of others' thinking. He was a valuable friend to all who loved animals, including many members of ISAZ. No one was more fully engaged in furthering appreciation for the contributions of animals.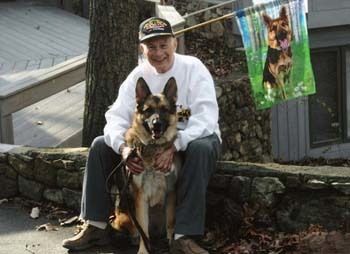 The first venture of Bill into the area of the human-animal bond area was when he decided to establish the Tiger Memorial Scholarship in the School of Veterinary Medicine at the University of California, Davis, in memory of his beloved toy Poodle, named Tiger. The scholarship is presented each year to an outstanding third year veterinary student who exemplifies the best aspects of the human-animal bond. He loved this occasion, appearing each May at the Awards Ceremony to present and meet the new Tiger Scholar, and then keeping track of the 31 Scholars as they progressed in their careers. After setting up the Tiger he became a prime financial mover in establishing the forerunner of the Center for Animals in Society, assisting the work of Lynette Hart, and launching the efforts of the University of California, Davis, in the area of human-animal interactions. As a manifestation of his active involvement, he moved to Davis in the 1980s to be closer to these activities. His legacy to the UC School of Veterinary Medicine includes the Rainbow Room at the Veterinary Medical Teaching Hospital for grieving pet owners and spearheading efforts to build a therapy pool for animals. He conceived of, and funded, the "Faithful Partner" Memorial on the UC Davis campus for California police dogs that have died in the line of duty.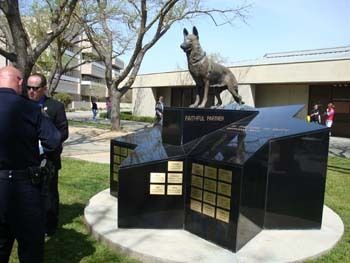 Intrigued by the animal behavior studies of Lynette and Ben Hart in Africa, Bill decided to join a project for a short while in Kenya. He celebrated this venture of his by treating his hosts to a hot-air balloon ride over the Masai Mara Game Reserve.
Bill was a loyal and supportive friend to ISAZ, and to scientists in general working in the field of human-animal interactions. He encouraged research studies focusing on the essential assistance dogs provide to police officers and people with disabilities. He was the ultimate cheerleader for anyone contributing knowledge of the special roles of animals to people. Always on the forefront and sensitive to the benefits that animals can have on persons living with major depression, Bill nurtured and supported the development of the Psychiatric Service Dog Society (www.psychdog.org). A chance encounter with Joan Esnayra on a cross-country airplane trip became the impetus for a lasting collaboration that has positively impacted the lives of thousands of mentally ill persons in our country. Through development of the 24/7 human-canine partnership model, mental health symptoms are abated and medication usage is decreased thanks in large part to Bill's unique insights and generosity. The Psychiatric Service Dog Society would not be what it is today without the influence of Bill Balaban. He also dreamed of animals being the inspiration for children in classrooms, and wrote a curriculum for incorporating this concept in all subjects.
Occasionally flamboyant, Bill sported at Delta Society, ISAZ, and IAHAIO conferences a one-of-a-kind jacket embroidered with images of his own companion dogs and logos of outstanding animal organizations. He updated to a second jacket to reflect the new organizations and developments and his new companion dogs. The jacket was an aspect of him as a role model, and one way that he was sure to meet people with similar interests.
In the early years of Delta Society, Bill built on his background as a producer of television specials by developing an award program for service animals. These events, when the awards were presented, combined a mixture of emotion and compelling documentation that inspired everyone who witnessed them. He carefully prepared and established ongoing relationships with the recipients who received the awards.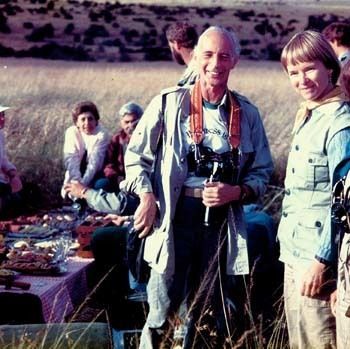 Besides supporting human-animal programs at academic institutions and nonprofit organizations, throughout all these years Bill was fully engaged in developing a video library of well over 1,000 videos and DVDs representing animals in the media. This activity also employed his career skills as a previous television producer. He systematically monitored, reviewed, and recorded the employment of animals in television movies, and commercials.
After moving to Roanoke, Virginia, in the mid 1990s, Bill made connections with and assisted Marie Suthers-McCabe at the Center for Animal Human Interactions (CENTAUR) at the Virginia-Maryland Regional College of Veterinary Medicine at Virginia Tech, and helped spearhead work there concerning the human-animal bond. He became a valued advisor to Sandra Barker and the Center for Human-Animal Interaction (CHAI) at Virginia Commonwealth University School of Medicine. Bill developed a particular interest in the Center's research on the health benefits of interacting with companion animals and became a strong supporter. A very humble man, Bill declined recognition for his support and only agreed to be interviewed by the university if the photo printed with his story was not of himself, but of his beloved dog, Bitz (story link at the end of this tribute). Bill honored CHAI with a bequest to establish an Endowed Chair in Human-Animal Interaction, and even then he had to be persuaded to have his name associated with it.
Prior to beginning his human-animal bond avocation, Bill had been a TV producer in Hollywood. Even earlier, he had served in the armed forces in Korea and he maintained a deep loyalty to his veteran colleagues. Although he generally was self-effacing and private in talking about his life, he left a description of some of his experiences in Korea. This document reflects his manner of speaking and recaptures his personality.
Bill was a passionate supporter of the field of human-animal interactions and committed friend to ISAZ whose loyalty and friendship are much missed.